Navy veteran airman, age 100, flies again on vintage World War II pilot-training biplane
'I live to fly," Donald Muncy said after soaring over central Ohio with Dream Flights
A U.S. Navy veteran airman who served the nation in two wars took to the skies over the heartland again yesterday.
"I live to fly," Donald Muncy, 100, told Fox News Digital after soaring over the cornfields and town square of Urbana, Ohio.
"I was raised on aviation. It's always great to get in the air. It was a beautiful flight," he said.
MEET THE AMERICAN WHO POPULARIZED LATIN MUSIC, TITO PUENTE, WORLD WAR II NAVY VETERAN AND KAMIKAZE SURVIVOR
Muncy, who served the United States in both World War II and in Korea, took cell phone video and snapped photos from the front seat of the open-cockpit 1942 Boeing biplane piloted by Dream Flights founder Darryl Fisher.
The tandem took off from Grimes Municipal Airport in Urbana to celebrate the organization's 6,000th trip with an American World War II hero on board.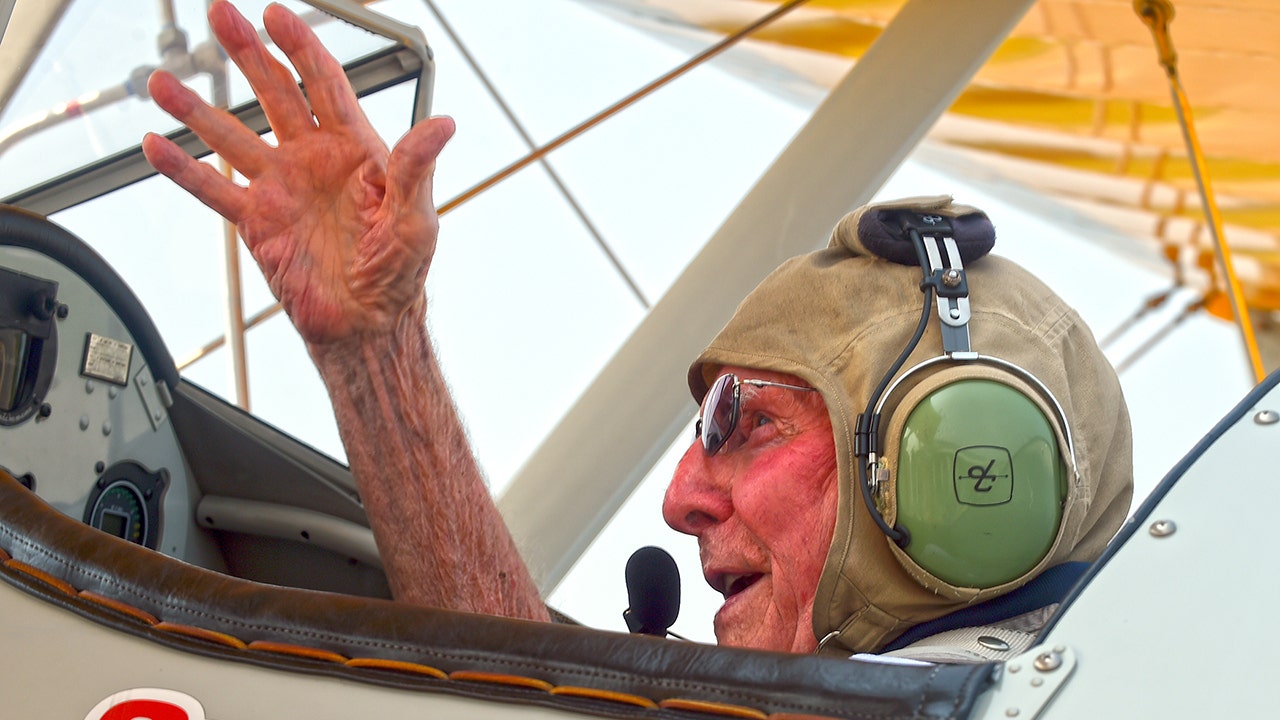 "Boeing built about 10,000 of these airplanes from 1939 to 1944. Its sole purpose was to train World War II aviators," said Fisher.
"If you were 18 or 19 in 1942 and joined the service, and you're going to be an airman and walked out to the airport for your first flight, there's a 90% chance this is the plane you were flying."
Dream Flights was joined by Veterans United Home Loans in the effort to "honor our veterans and enhance their lives with an adventure of a lifetime," according to a release.
"I live to fly. I was raised on aviation." — Don Muncy, 100, veteran of World War II and the Korean War
Muncy's 20-minute flight was witnessed by a crowd of about 100 patriots and well-wishing spectators, not far from the Navy man's hometown of Springfield, where he graduated from high school in 1940 and still lives today.
Muncy turns 101 on October 27.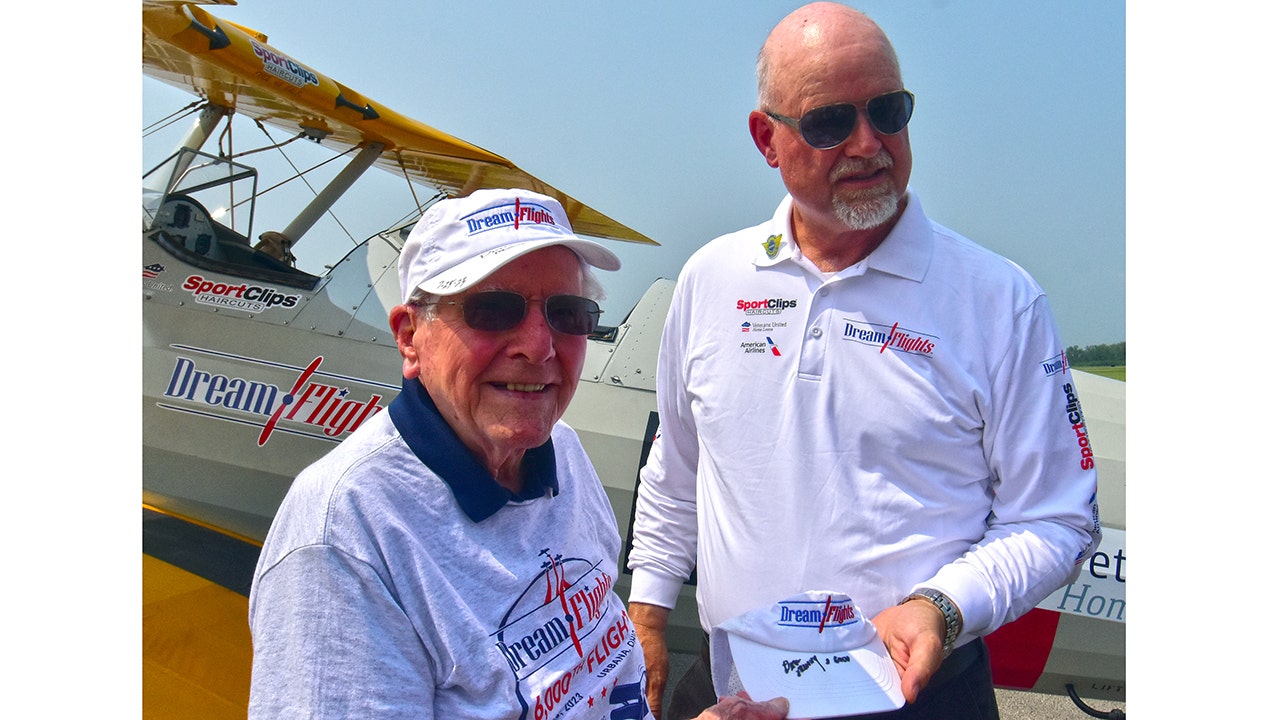 He joined the U.S. Navy out of high school and pursued his passion for flight in defense of the nation.
He was a teenage crewman aboard PBY Catalina patrol planes, which were used to search for enemy submarines, when war erupted on Dec. 7, 1941.
ON THIS DAY IN HISTORY, JULY 24, 1998, WORLD WAR II EPIC 'SAVING PRIVATE RYAN' DEBUTS IN THEATERS
Muncy was at Naval Air Station Jacksonville in Florida.
"I had just finished lunch and gone to the library to look at some books," Muncy said, recalling the Day of Infamy.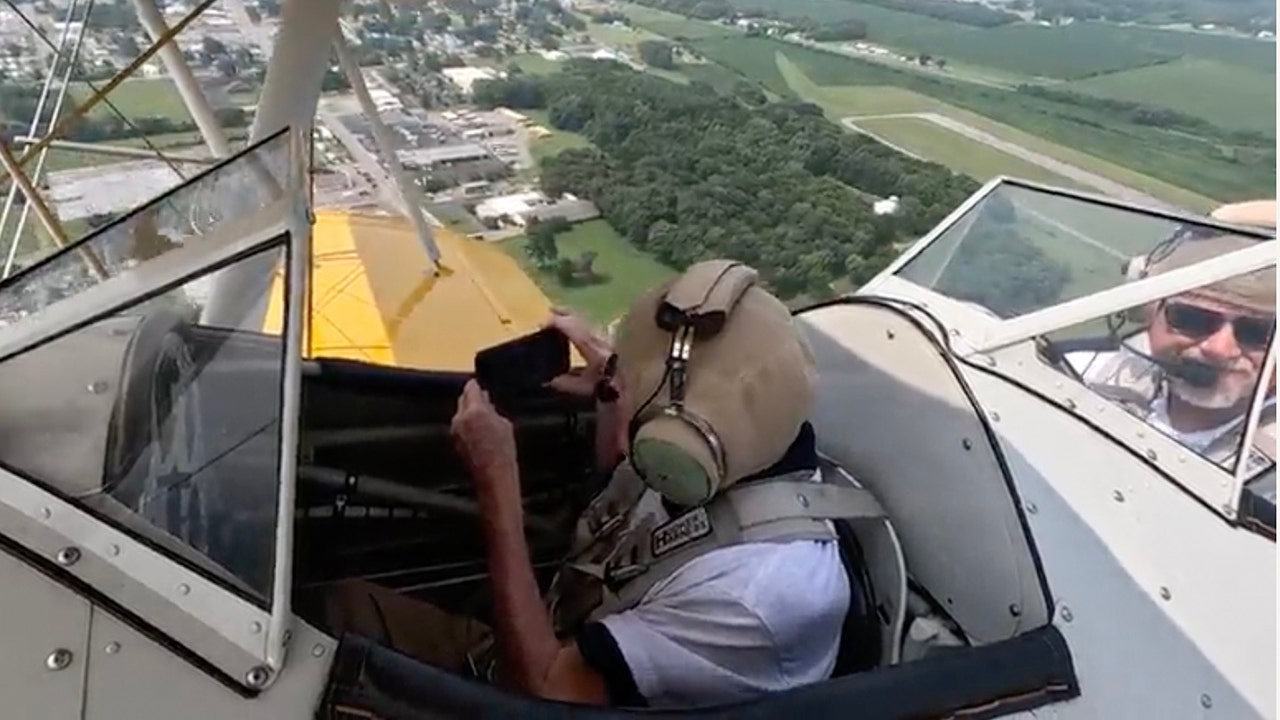 "We were in the library when the radio came on. That was my knowledge of [the attack] right away. In the military you're always prepared for things. So everything on base [tightened] up after that."
Muncy served in the Navy throughout the entirety of the war.
He was called to action again during the Korean War, serving at the naval air station on the Aleutian islands in Alaska.
"It was an honor to serve the country. It really was." — Don Muncy
He later became an official with the Federal Aviation Administration and a licensed commercial pilot.
Muncy appreciates the support he's received in later years as a wartime veteran and member of the Greatest Generation, including from the crowd that came to see him fly Tuesday.
He said he's even more appreciative that had the opportunity to serve the United States of America in uniform.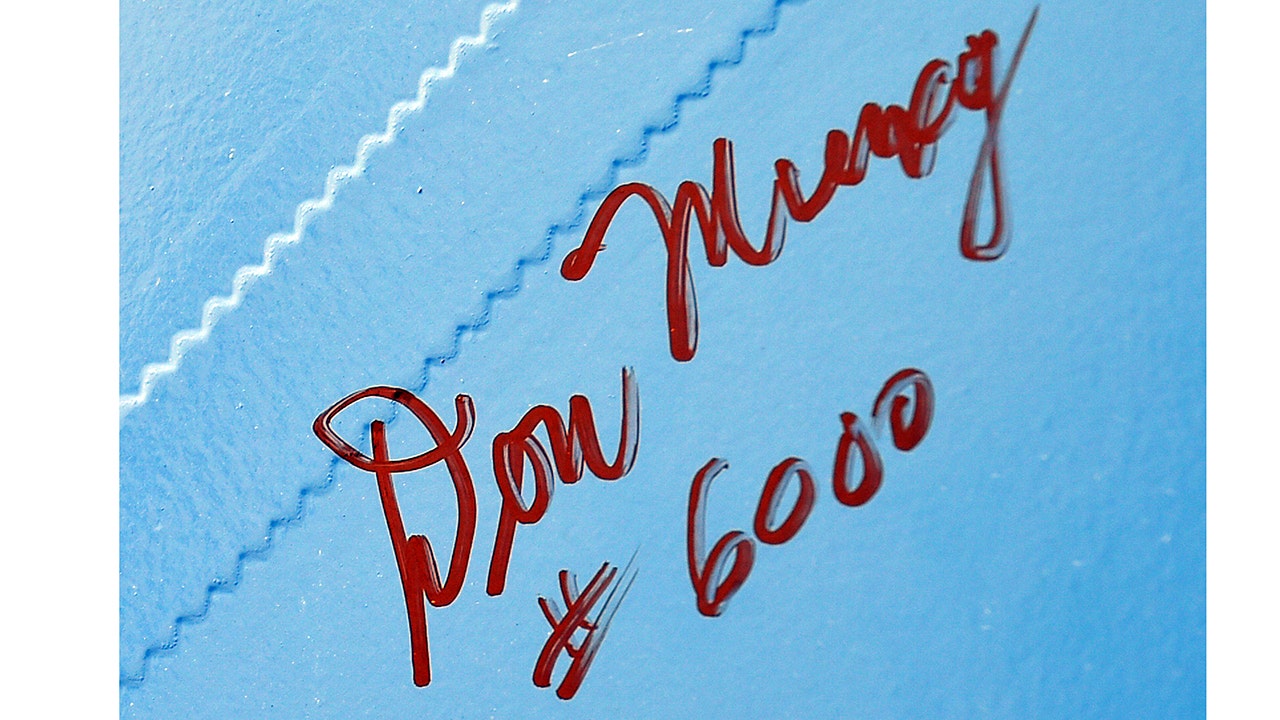 "It was an honor to serve the country. It really was. Being a product of the Depression, the Navy, the military gave me all my education and my opportunities and introduced me to great people to work with."
Fisher, his pilot on Tuesday, founded Dream Flights in 2011, after barnstorming across the country with his dad, Bill, in his father's biplane.
MEET THE AMERICAN WHO 'WON THE WAR FOR US': ANDREW JACKSON HIGGINS, WORLD WAR II NEW ORLEANS BOATBUILDER
"We had to make 15 fuel stops along the way," said Fisher, who operates assisted living facilities.
"We had this idea to call a local care facility and bring a veteran out on a flight, just as a lark. I had no idea this is where it would go."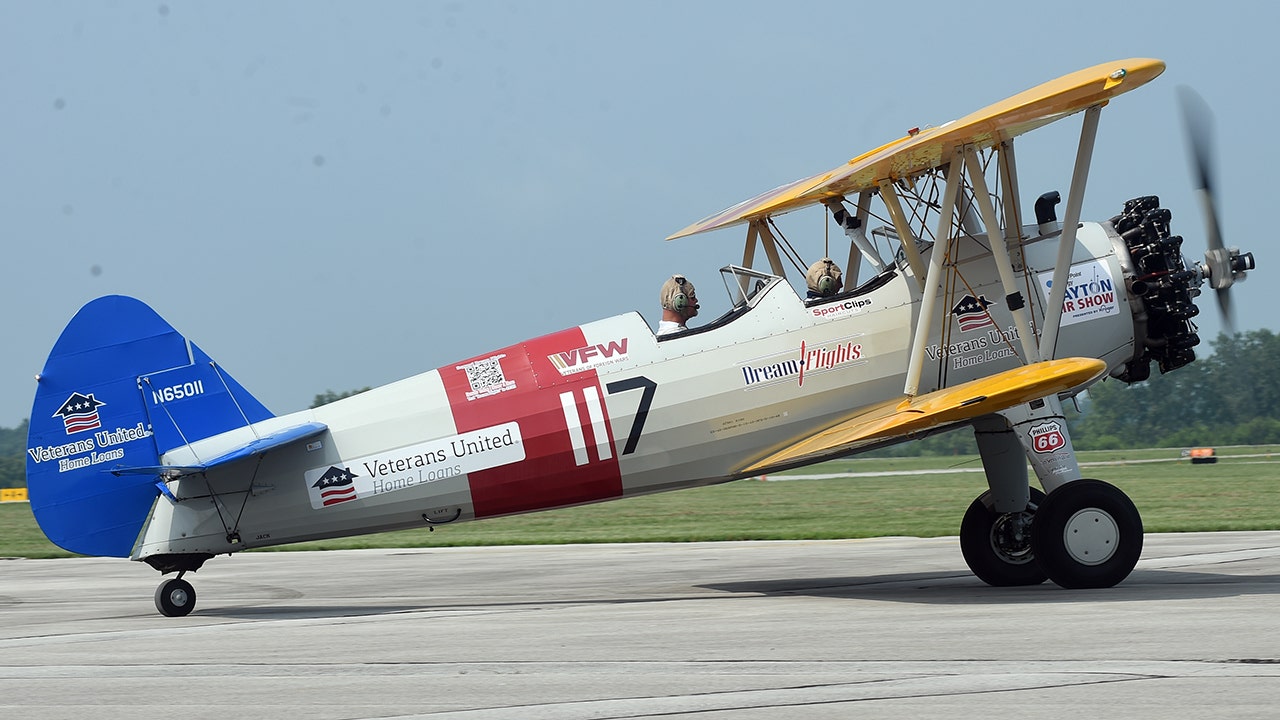 He added, "I was on cloud nine when I got home. My wife said, 'Why should we stop doing this?'"
He's now given Dream Flights to thousands of veterans. The response from the elderly American heroes is oftentimes overwhelming.
CLICK HERE TO SIGN UP FOR OUR LIFESTYLE NEWSLETTER
The experience of one veteran will never be forgotten.
"I get paid in satisfaction. And I'm overpaid." — Dream Flights founder Darryl Fisher
Eddie Lamken, a World War II Army veteran from Stevens Point, Wisconsin, was in a wheelchair when he departed on his Dream Flight in 2016.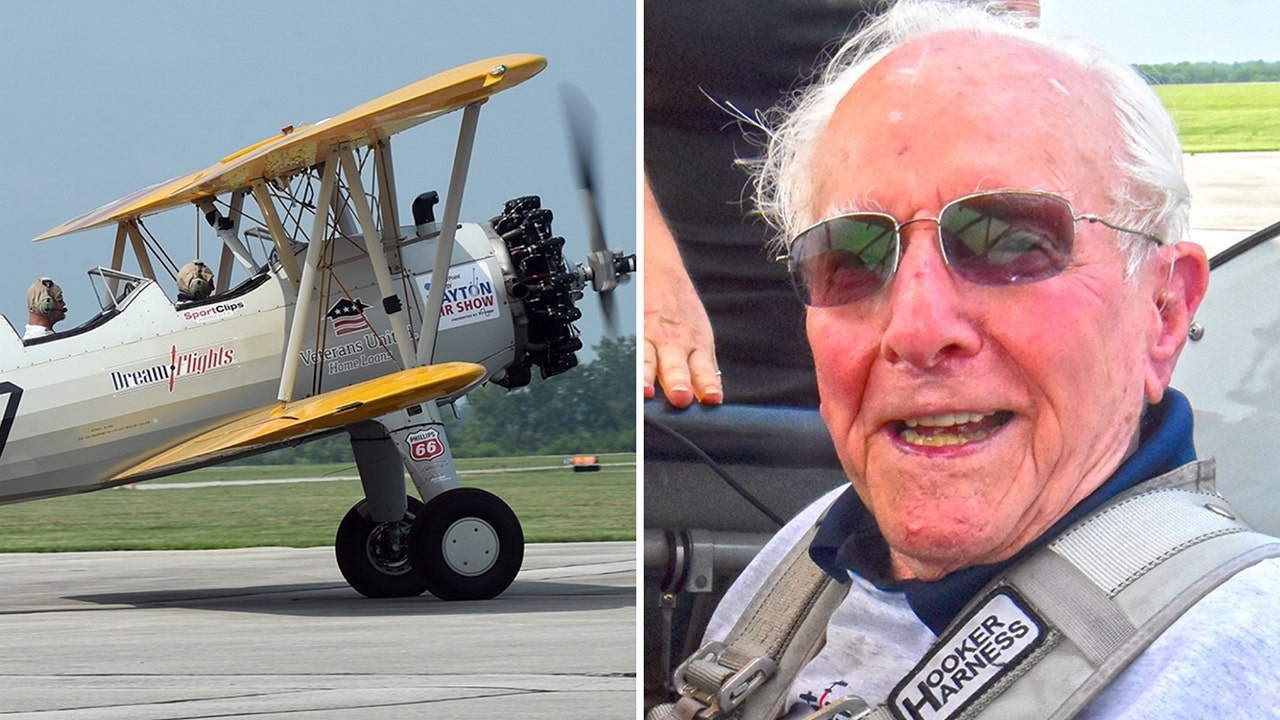 "We put him in the airplane and he was absolutely overjoyed. He walked away from the airplane and didn't use the wheelchair again for five years. His son Dave said, 'You gave me my father back.'"
CLICK HERE TO GET THE FOX NEWS APP
Dream Flights (dreamflights.org) remains an entirely volunteer-run organization.
"I get paid in satisfaction," said Fisher. "And I'm overpaid."