FedEx driver recalls harrowing moment he pulled injured man from burning car on CA highway: 'Perfect timing'
Jonathan Rohrbach is being praised as a hero for his actions
FedEx driver Jonathan Rohrbach stepped in at the right time to save an injured man from his burning vehicle on a California highway last Wednesday, pulling him to safety mere moments before the flames grew out of hand.
Video footage captured by local news outlet KGTV-TV in San Diego shows Rohrbach dragging the man across the pavement after pulling him from his car. In the backdrop, the badly-damaged car is engulfed in flames.
"It was just, I guess, a natural reaction," he told "Fox & Friends Weekend" on Sunday. "I went around the corner and in a bend in the highway and saw the car on fire. There wasn't anybody up there yet. I was the first one to come up on it. So I pulled over and it was already on fire. So I pulled over and grabbed my fire extinguisher from the truck and ran back there."
MICHIGAN BUS DRIVERS' DARING RESCUE OF TODDLER TAKEN DURING CARJACKING OF PARENTS' VEHICLE CAUGHT ON CAMERA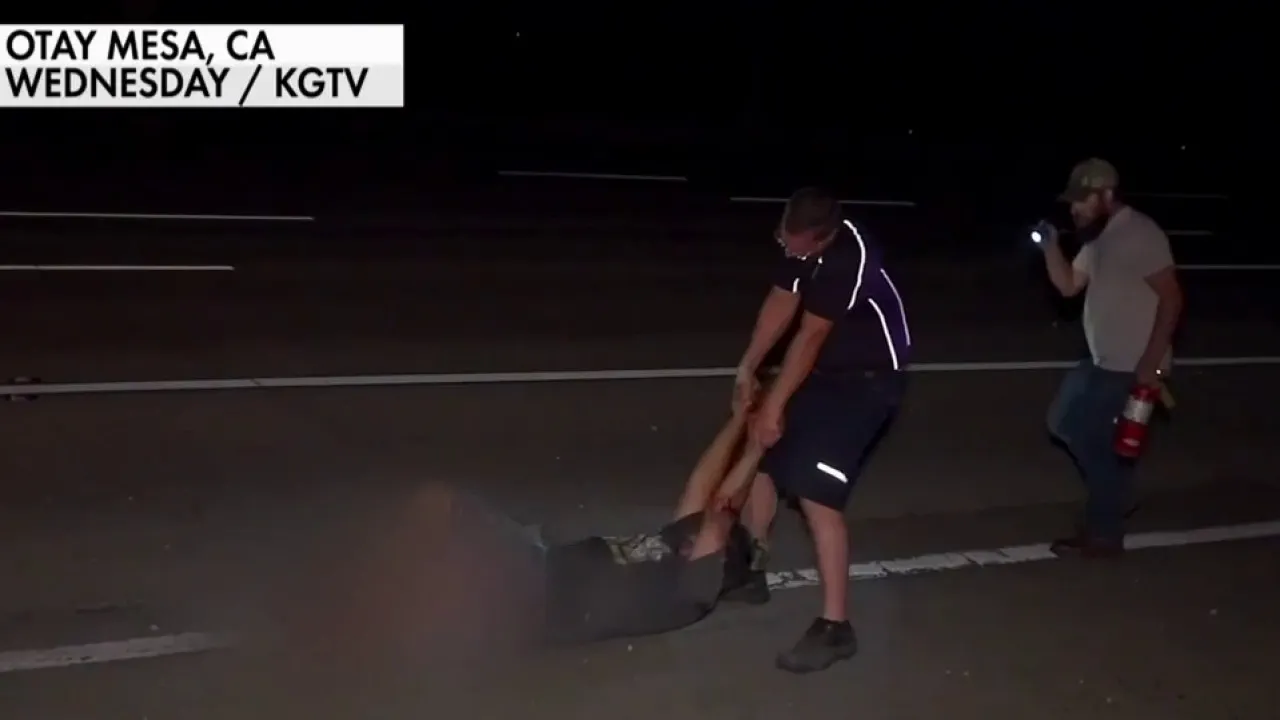 "He was yelling about his leg, so I didn't know if he was pinned in the car or what was going on. So I figured I would be able to at least try to knock the fire down a little bit. That way that would give me more time if I could get it all out, at least check him out and see what I could do to get him out, you know?"
Rohrbach said the driver had "obvious injuries" on his left leg. As soon as he tried to help him to his feet to get away from the car, he screamed in pain, so they had to shift strategies.
"He couldn't stand up at all. I couldn't pick him up, so the best option that we could come up with is to help him down to the ground and then and pull them away from the car, get him at least away from the fire."
VIDEO SHOWS NYC FIREFIGHTER GET TRAPPED UNDER SUV DURING RESCUE BEFORE BYSTANDERS SAVE HIM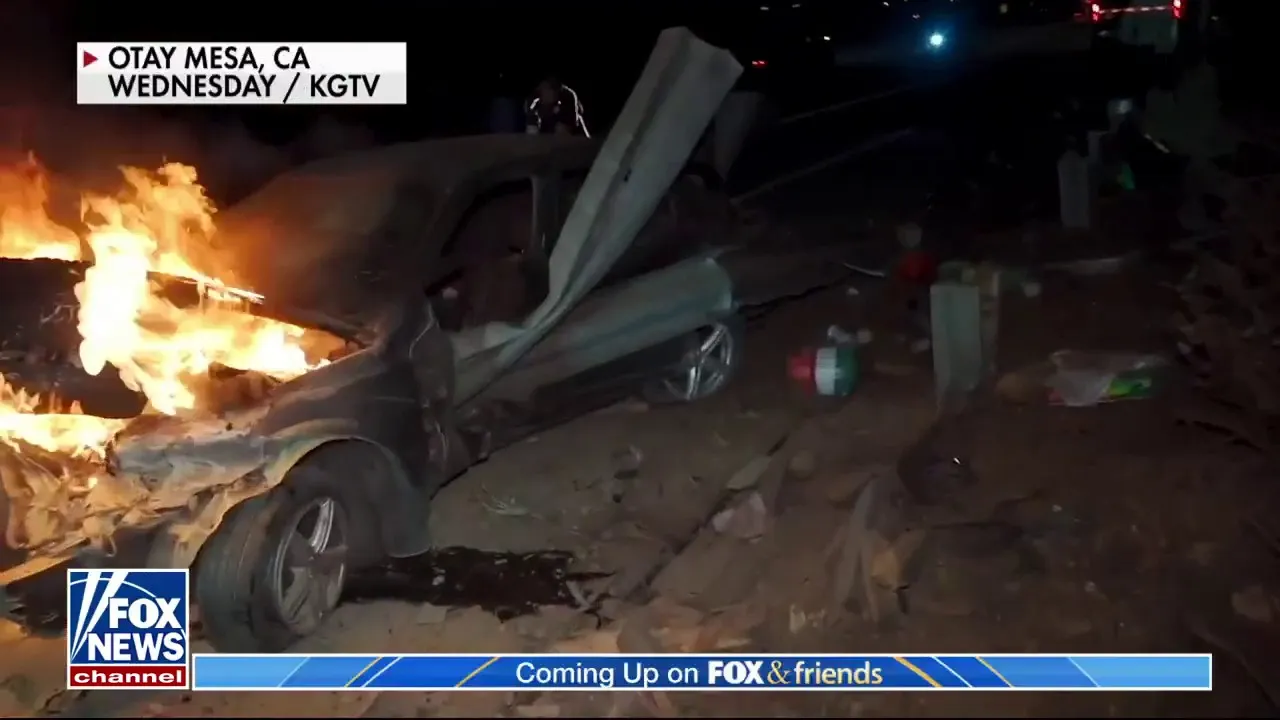 The incident took place in Otay Mesa, California on I-15 in San Diego County Wednesday, and Rohrbach has since made news for his split-second heroism.
The KGTV cameraman who recorded the incident happened to be only an exit or two north of the scene, so he raced there where he captured the footage.
"He was there… I think right after I got the guy on the ground or helped him to the ground is when the cameraman came running up on us… you know, there's not much he could do at that point to help, so he was able to film it."
INDIANA POLICE BODYCAM CAPTURES HARROWING MOMENT OFFICERS SAVED BABY, FAMILY FROM BURNING HOUSE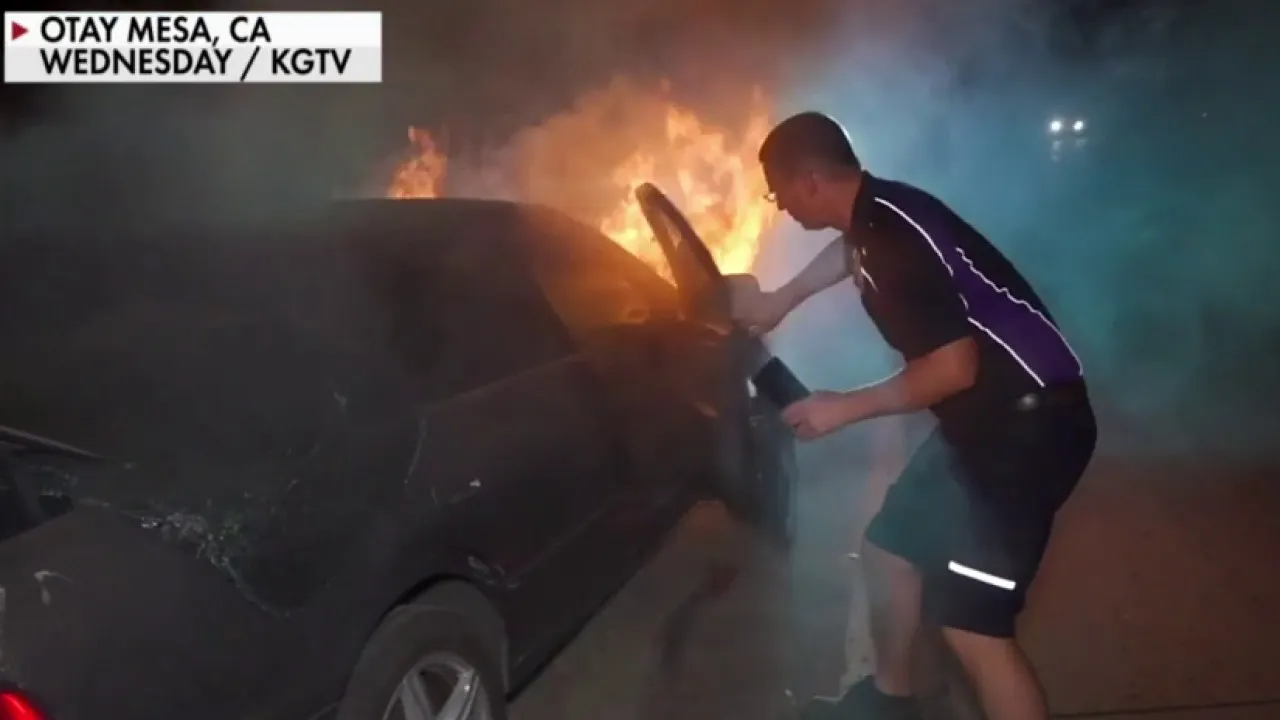 California Highway Patrol later confirmed the 28-year-old driver was transported to the hospital and is expected to recover, according to KGTV. They also said drugs and alcohol were not factors in the incident.
Praised as a hero, Rohrbach told the outlet, "If it looks like there's a way to help somebody, you gotta stop and help them."
CLICK HERE TO GET THE FOX NEWS APP
For more Culture, Media, Education, Opinion, and channel coverage, visit foxnews.com/media.