NC community will have residents pledge to uphold Constitution, fly American flag year-round
North Carolina development combining patriotism with the American dream of homeownership
An upcoming North Carolina housing development is billing itself as patriotic community where homeowners will "pledge" to fly the American flag year-round and uphold the nation's values.
Brock Fankhauser, founder of 1776 Gastonia, said his mission is to blend American patriotism with the American dream of homeownership.
"I think it's safe to say right now our nation is a little bit sick," Fankhauser told "Fox & Friends First" Monday. "As I look across the landscape of America right now, I see a country that's suffering. I think there's some pain and hurt going on. I think the medicine that America needs right now in some form is patriotism."
IN MAINE, A PROPOSED $1B PATRIOTIC PARK WILL FEATURE 1,776-FOOT TALL FLAGPOLE
Great American Homes, the company behind the 55 and up development being built 30 minutes outside Charlotte, will require residents to pledge their allegiance to life, liberty and the pursuit of happiness as well as to support the Declaration of Independence and the Constitution.
Residents must also promise loyalty to each other and to commit to the future of the neighborhood. An American flag will be provided with the purchase of each home and must be displayed.
"We're going to install the flag as part of the design of the home," Fankhauser explained. "It's an architectural element. It's there the day you take possession of the home and close on it. From that point on, it's each homeowner pledging to one another. It's a promise, it's a covenant. And so as long as the people who live in those homes continue with their covenants and their pledges to one another, the flags will fly."
REPUBLICAN LAWMAKER INTRODUCES 'FIDELITY MONTH' BILL TO REDEDICATE US TO ITS 'CORE VALUES'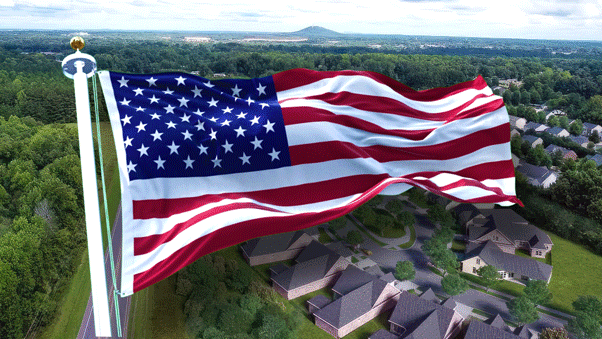 Fankhauser told Fox News Digital there aren't any consequences for anyone who breaks the community's rules. He hopes interested homeowners would want to be consistent with the neighborhood's covenants.
"We embrace freedom," Fankhauser said. "That's obviously foundational to the American story."
"To come after people with the heavy hand and penalties doesn't strike me as consistent with founding ideals," he continued. "So we are heavily reliant on the mutual pledges that people make to each other."
1776 Gastonia has planned to list its 43 homes for sale on July 10, though they still need to be built. Nearly 200 inquires had already come in over 100 days, according to Fankhauser.
"It's a scope and a size which we were not prepared for," he said. "It tells us we're onto something and we take it very seriously." he said.
"The ultimate goal, we want to turn that flame of patriotism up just a little bit," he said.
CLICK HERE TO GET THE FOX NEWS APP
1776 homes has also teamed up with Building Homes for Heroes to gift one of their homes to an injured veteran and their family.
"We're going to start building their house next month," Fankhauser said. "They'll move in early 2024 and they'll be able to live in the first 1776 community mortgage-free."
Fox News' Megan Myers contributed to this report.